SAG-AFTRA Magazine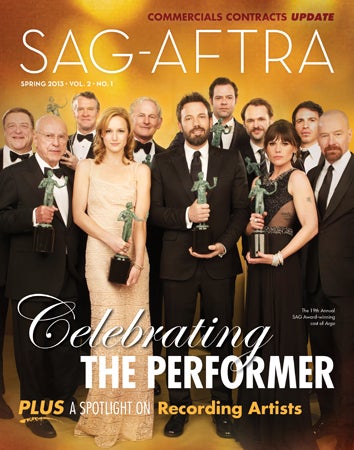 The "But,  but, but" Issue
I call the current issue of the SAG-AFTRA Magazine (pictured above) the "But, but, but" issue because, well, SAG-AFTRA members are informed by the Leadership, in various columns, on how well things are going, but in the middle of every good news story they drop the Ol' "But, but, but…!"
For instance Co-Prez Ken Howard's column


Things are great, "Yada Yada Yada…"  And then comes the "But, but, but…." part.

"While I am pleased to share such good news with you, I also need to address a more challenging topic.  At its April meeting, the SAG-AFTRA National Board approved a fiscal year 2014 budget that anticipates a strategic restructuring of our operations. The plan corrects a structural deficit between revenue and expenses of roughly $6 million dollars relating to pre-merger legacy costs of the prior organizations."
Pre-merger legacy costs?  You think those costs might be related to the MILLIONS spent to stuff the merger down members throats?   Naw!!!

Now let's peruse Co-Prez Roberta Reardon's Column.


Things are great, "Yada Yada Yada…"  And then comes the "But, but, but…." part.

"Like every newly merged organization,there have been growing pains and difficult decisions that have to be made. In assessing our finances and our mission, we realized we were not positioned to succeed. The fact is, we have to restructure this union. We have made the difficult decision to close 10 of our local offices and lay off 60 staff members. This is cutting into muscle, but it is necessary for our union so we can focus on our core priorities: organizing work, enforcing contracts, negotiating those contracts and making sure members get paid. Please understand how difficult this decision was for us. But we must husband our resources in order to do the great work you have asked us to do."

Closing offices and canning 60 staff members.  You get the feeling this merger, under the current leadership ain't working out all that well?

And then there's a letter from the Executive Vice President Ned Vaughn.

His column in a Nutshell.

"Qualified Voting"
——–
Then there's the dynamic duo column of Amy Aquino & Matt Kimbrough.


Two authors twice as many "But, but, but, but, but, buts!"  Ah, rather than a verbal review, how about a visual one?


———-
And how about the written "mullings" of our  "pleased" National Executive Director David White.
"We remain laser-focused on improving member services in this new, merged environment."
And, now the, ah, bad news from our NED…."As a result, we will close brick and mortar offices in 10 smaller markets."
Hmmm….and, of course,  none of these closings has anything to do with the MILLIONS of dollars spent pushing Merger down the throats of SAG Members!"    Right?

Look, I could go on, but, but, but, better yet read the magazine yourself.  If you don't have a copy,  you can access it on line at http://www.sagaftra.org/files/sag/documents/saspring13_public.pdf

———-
Arl

The Ol' SAG Watchdog

*Hope you like the new design of the SAG Watchdog website.  Thanks to my friend B.H.for his hard work!!!