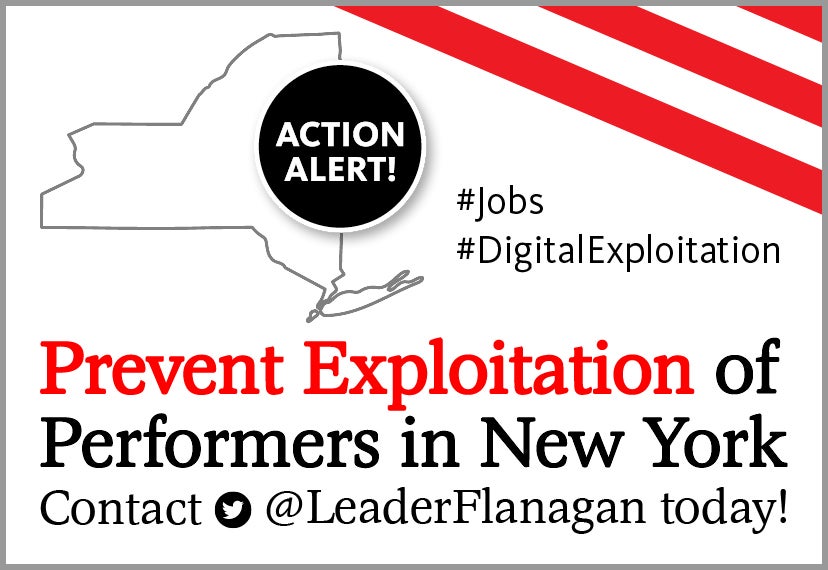 The New York Assembly and New York Senate have UNTIL WEDNESDAY to vote on a post-mortem right of publicity bill to protect the thousands of professional performers who live and work in New York. To make sure your voice is heard, it is critical that you call today to support these bills.
As you've seen, content creators can now create photo-realistic performances of even deceased performers. A 8155-A/S 5857-A are laws that will protect our members, even after life, from being digitally inserted into movies, commercials, TV shows and video games without their permission. Not unlike a small business owner who passes down the family business to his children, performers should be able to pass down their publicity rights to their loved ones.
Without the right of publicity, a state-based intellectual property right recognized throughout the country, performers and their heirs have no law on the books in New York to protect them.
 
ACTION ALERT
Please contact Senate Majority Leader John Flanagan at (518) 455-2071 (Albany Office) or (631) 361-2154 (District Office) and use a variation on the suggested script below to let him know how important an adequate right of publicity is to you, your career and the citizens of New York.
Also, please share posts from SAG-AFTRA social media with the hashtags #Jobs and #DigitalExploitation. Make a short video sharing your support and Tweet legislators like @LeaderFlanagan that performance is a job that needs to be protected in this digital revolution.
Thank you for supporting the Right of Publicity bill!
SUGGESTED PHONE SCRIPT
I'm calling to share my support with Senator Flanagan for the New York Right of Publicity bill.
 
My name is (NAME), and I live and work in New York. I'm a (actor, recording artist, etc.) and a proud member of SAG-AFTRA. Performers are the faces and voices of video games, movies, TV shows and media and the right of publicity protects my work. 
 
Technology can now take my image and voice to do my job for me, without my permission. This is thievery. It is not free speech to take my performance and force me to compete for jobs with knock-offs and digital versions of myself. I urge Senator Flanagan to pass the Right of Publicity bill. 
---
SAG-AFTRA is a union that has among its members a diverse group of performers, broadcasters and newscasters. The passage of this resolution/statement should not be interpreted as a personal statement of opinion by or of any specific member of the union.
—
Good luck to our New York Members!  Lets face it in the long run it could effect us all!
Arl
The Ol' SAG Watchdog
*Headline Photo from SAG-AFTRA Website